The year is 2022, and nearly everyone is online and uses the internet and social media daily. The good thing for you is that this trend doesn't show any signs of stopping. Some estimates say that by 2025 over 4.40 billion people will be on social media.
Today the average person spends at least two and half hours daily scrolling through social media, so if you think that your SaaS product doesn't need a solid online presence on some of the social media channels, you might be missing some good $$$. Because, after all, behind all the companies you want to work with are humans like me and you.
Statistics show that 55% of individuals buy products through social media, while 87% of online buyers claim that social media helped them purchase. If you ask us, that is a huge reason to be on social media today.
If you don't know where to start, don't worry. This blog post answers critical questions about creating the best social media strategy for your B2B Tech Startup.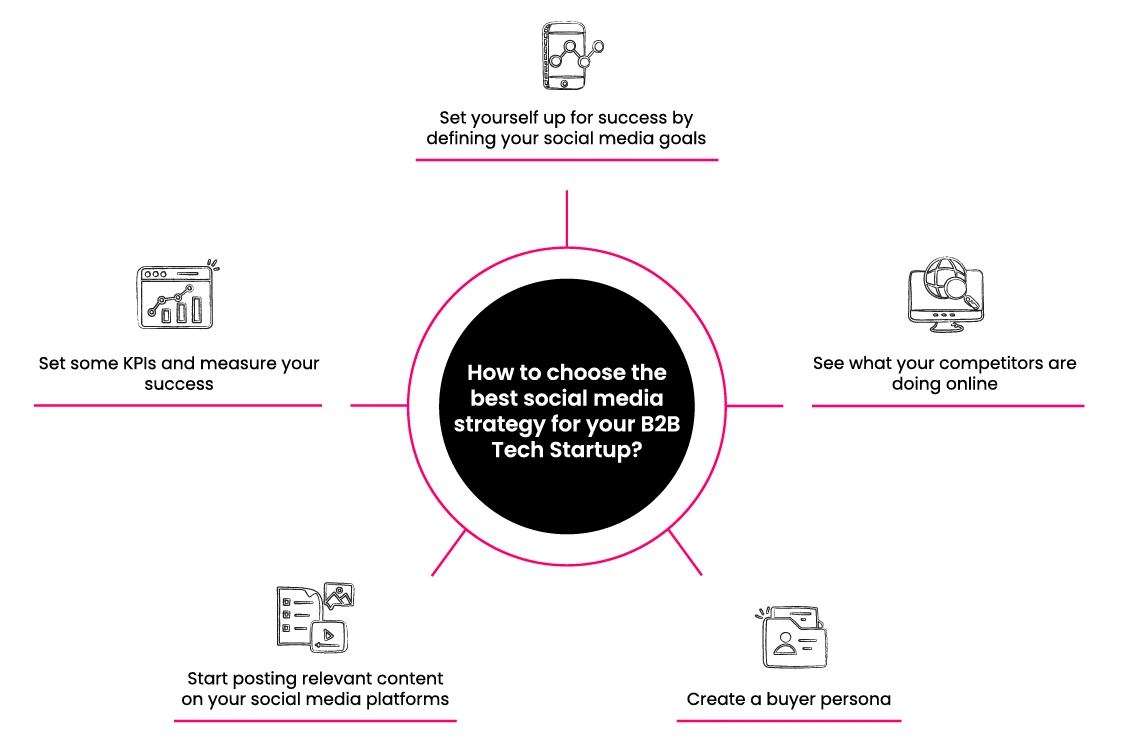 How to choose the best social media strategy for your B2B tech startup?
1.Set yourself up for success by defining your social media goals
By setting clearly defined goals, you know where you are headed and how you will get there. In your goal-setting process, these questions will help you clarify your goals.
Why are you on social media?

What do you want to achieve?
Do you want to increase traffic to your website?
Do you want to acquire more qualified leads?
Do you want to drive people to your landing page or make them sign up for your newsletter?
If you want to know more about the goal-setting process, take a look at our previous blog about goal-setting, where we go into more detail.
2.See what your competitors are doing online
A little bit of competitor research didn't hurt anybody. By looking at what kind of content they produce, what type of content goes well, and how they engage with their audience on their social media pages, you will see how you can differentiate from your competitors.
Did you know you can "spy" on what social media ads your competitors are running?



Yeah, that's true. There is a legal way to do that. The tool is called Facebook Ad Library. Using this tool can help you see what kind of ads were published in each country and category.
3.Create a buyer persona
"Buyer persona is a semi-fictional representation of your ideal customer based on market research and real data about your existing customers" - Hubspot.
Consider this as your best friend that will help you decide:
Who is your target audience?

What content to make from them?
Where should you post your content?
4.Start posting relevant content on your social media platforms
1.Facebook
Many people would argue that only B2C brands are successful on Facebook, but with its base of over 1.93 billion daily users, you can surely benefit from it by
Using Facebook ads
Engaging with your audience in Facebook groups
Providing customer support via your Facebook page

Currently, the type of content that's doing the best on this platform is videos. Instead of just promoting your latest blog post here, you can consider turning it into an educational video that you can later use for other platforms.
2. LinkedIn
We can call LinkedIn the king of B2B. This platform is all about business and networking. LinkedIn is one of the best ways to lead generation and convert clients. Here it would be best if you showed you're the expert that has happy clients and delivers the best work.
Why is LinkedIn the best platform for B2B?
Because all your stakeholders and decision-makers are there, over 40% of its 774 million members access it daily and interact with each other.
The best way to use LinkedIn is for lead generation, with 43% of marketers saying they have sourced at least one customer from LinkedIn.
What's the best B2B social media strategy for LinkedIn?
Create a captivating LinkedIn Page
Share relevant content about your product or the problem you're solving.
Turn your employees into influencers.
Employees engage with LinkedIn posts.
Publish articles
Leverage LinkedIn ads.
Share case studies and post about how you helped your clients succeed.
3. Instagram
Yeah, we all know Instagram as the platform for pretty pictures and videos. Still, when it comes to B2B marketing packs quite a punch with its 1.9 daily active users and an ad platform with a revenue of $26.46 billion just from ads.
Instagram is the platform on which you can
Leverage photo and video content

Show your company culture.
Focus on the people that work with you
Show how you can educate and help the community around your product or service.
4. Twitter
Twitter is considered the web's newsroom where ordinary people, thought leaders, and businesses alike come to share findings and opinions on some topics.
Why is Twitter an excellent platform to promote your B2B startup?
According to statistics, Twitter users more time watching ads by 26% compared to other social media platforms.
How can you build your B2B brand on Twitter?
Add hashtags to your post. This will help potential decision-makers and potential clients notice you.
Test out new ideas with Twitter pols
Engage with influencers in your niche
Share user-generated testimonials and industry news.
Run Twitter ads to boost your visibility.
Post and share relevant content in your industry.
5.Set some KPIs and measure your success
As we said in our previous blog about Content Marketing Strategy, this step is all about measuring, analyzing, and optimizing your social media strategy. By looking at your analytic data with the help of the built-in tools of Facebook, Instagram, LinkedIn, and Twitter, you can see what is attractive to your audience. To see if your social media posts are driving traffic to your website, you can use a tool like Google Analytics.
Using these tools will help you answer the question:
"Are we hitting the right goals?"
"How can we improve in the future?"
Conclusion
Now that we concluded that social media platforms are a good and cost-effective way of generating leads, these are the six things you need to keep in mind :
Set S.M.A.R.T goals that align with your business goals overall
Research your competitors to see how you can differentiate from them
Buyer personas will help you discover what's attractive to your audience and where their attention lies.
Define your brand image and tone of voice. This will help you be more recognizable on social media.
Create relevant, educational, and exciting content. By creating this type of content, you will drive traffic to your website and generate qualified leads.
There is always space for improvement, so Measure, Analyze and Optimize your social media strategy.
Congratulations, you followed all of these steps, and now you're ready to take your content marketing to the next level.
Want to learn more about demand generation and inbound marketing?
Go to our blog and find some insightful tips to help your business grow!