The year is 2023, and nearly everyone is online and uses the internet and social media daily. The good thing is, this trend doesn't show any signs of stopping. Some estimates say that by 2025 over 4.40 billion people will be on socials.
Today the average person spends at least 2 and half hours a day scrolling through social media, so if you think your SaaS product doesn't need a solid online presence on some of the social media channels, you might be missing some good $$$. After all, behind all the companies you want to work with are humans like you and me.
Statistics show that 55% of individuals buy products through social media, while 87% of online buyers claim that social media helped them purchase. If you ask us, this alone is a huge reason to create a business social media profile.
But if you don't know where to start, don't worry. This blog post will answer all important questions about creating the best social media strategy for your B2B tech startup.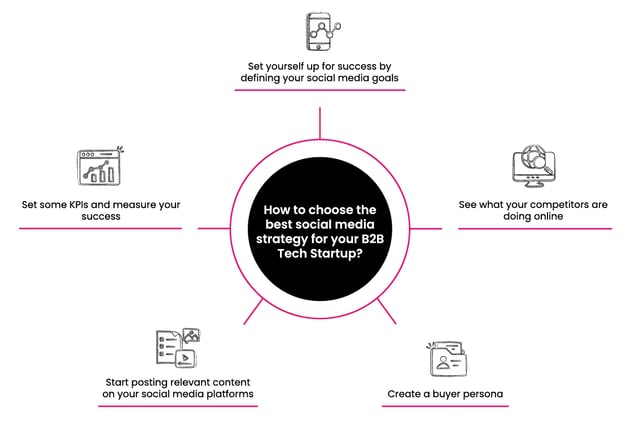 How to Choose the Best Social Media Strategy for Your B2B Tech Startup?
1. Set Yourself Up for Success by Defining Your Social Media Goals
By setting clearly defined goals, you know where you are headed and how you will get there. In your goal-setting process, these questions might help you clarify them:
Why are you on social media?

What do you want to achieve?
Do you want to increase traffic to your website?
Do you want to acquire more qualified leads?
Do you want to drive people to your landing page or make them sign up for your newsletter?
If you want to know more about the goal-setting process, take a look at our previous blog about goal-setting, where we go into more detail.
2. See What Your Competitors Are Doing Online
A little bit of competitor research didn't hurt anybody. By looking at what kind of content they produce, what type of content goes well, and how they engage with their audience on their social media pages, you will see how you can differentiate from your competitors.
Did you know you can "spy" on what social media ads your competitors are running?
Yeah, that's true. There is a legal way to do that. The tool is called Facebook Ad Library. Using this tool can help you see what kind of ads were published in each country and category.
3. Create a Buyer Persona
"Buyer persona is a semi-fictional representation of your ideal customer based on market research and real data about your existing customers" - Hubspot.
Consider this as your best friend that will help you decide:
Who is your target audience?

What content to make from them?
Where should you post your content?
4. Start Posting Relevant Content on Your Social Media Platforms
1. Facebook
Many people would argue that only B2C brands are successful on Facebook, but with its base of over 1.93 billion daily users, you can surely benefit from it by:
Using Facebook ads
Engaging with your audience in Facebook groups
Providing customer support via your Facebook page
Currently, the type of content that's doing the best on this platform is videos. Instead of just promoting your latest blog post here, you can consider turning it into an educational video that you can later use for other platforms.
2. LinkedIn
We can call LinkedIn the king of B2B. This platform is all about business and networking. LinkedIn is one of the best ways to lead generation and convert clients. Here you should show you're the expert who has happy clients and delivers the best work.
Why is LinkedIn the best platform for B2B?
Because all your stakeholders and decision-makers are there, over 40% of its 774 million members access it daily and interact with each other. The best way to use LinkedIn is for lead generation, with 43% of marketers saying they have sourced at least one customer from LinkedIn.
What's the best B2B social media strategy for LinkedIn?
Create a captivating LinkedIn Page
Share relevant content about your product or the problem you're solving
Turn your employees into influencers
Employees engage with LinkedIn posts
Publish articles
Leverage LinkedIn ads.
Share case studies and post about how you helped your clients succeed
3. Instagram
Yeah, we all know Instagram as the platform for pretty pictures and videos, but when it comes to B2B marketing, it packs quite a punch with its 1.9 daily active users and an ad platform with a revenue of $26.46 billion just from ads.
Instagram is the platform on which you can
Leverage photo and video content

Show your company culture
Focus on the people that work with you
Show how you can educate and help the community around your product or service.
4. Twitter
Twitter is considered the web's newsroom where ordinary people, thought leaders, and businesses alike come to share findings and opinions on some topics.
Why is Twitter an excellent platform to promote your B2B startup?
According to statistics, Twitter users spend more time watching ads by 26% compared to other social media platforms.
How can you build your B2B brand on Twitter?
Add hashtags to your post to help potential decision-makers and clients notice you
Test out new ideas with Twitter polls
Engage with influencers in your niche
Share user-generated testimonials and industry news
Run Twitter ads to boost your visibility
Post and share relevant content in your industry
5. Set KPIs and Measure Your Success
As we said in our previous blog about Content Marketing Strategy, this step is all about measuring, analyzing, and optimizing your social media strategy. By looking at your analytic data with the help of the built-in tools that Facebook, Instagram, LinkedIn, and Twitter, you can see what is attractive to your audience. To see if your social media posts are driving traffic to your website, you can use a tool like Google Analytics.
Using these tools will help you answer the question:
"Are we hitting the right goals?"
"How can we improve in the future?"
Best B2B Digital Marketing Practices for Social Media for Startups
LinkedIn's data shows that 75% of B2B decision-makers source information on social media before purchasing. Implementing social media in your B2B tech startup marketing strategy allows you to connect with your target audience, share valuable content, and engage in conversations that can lead to new business opportunities.
Implementing the best practices when it comes to running social media strategy for startups is important as it helps you establish your brand, reach new audiences, and build relationships with potential customers. By following these practices, you can ensure that your social media presence is effective and aligned with your overall B2B digital marketing strategy. This can ultimately help you generate leads, increase brand awareness, and drive business growth.
Some of the best social media practices for any B2B tech startup marketing strategy are:
Provide Customer Value
Providing customer value through social media is an essential aspect of any B2B tech startup's marketing strategy. It involves creating and sharing content that is informative, helpful, and relevant to your target audience. By providing value through your social media presence, you can establish your brand as a thought leader in your industry and build trust with potential customers.

The most effective ways to provide customer value through social media are:
Share industry news and insights: Craft different social media posts and keep your audience informed about the latest news and trends in your industry. This will position your brand as an expert and provide valuable insights to your followers.
Create and share educational content: Develop content related to your industry that provides useful information and insights to your audience. This could include blog posts, e-books, webinars, or whitepapers.
Respond to customer inquiries: Be prompt and helpful in responding to customer questions and inquiries on social media. This will build a positive reputation for your brand and show that you value your customers.
Provide exclusive offers and promotions: Offer exclusive discounts or promotions to your social media followers. This will help build customer loyalty and encourage engagement with your brand.
Host Q&A sessions and webinars: Host live Q&A sessions or webinars to provide valuable insights and answer your audience's questions. This will help build credibility for your brand and establish your expertise in your industry.
Join a Relevant Conversation
Joining relevant conversations on social media can be a valuable practice for B2B tech startups who are looking to build their brand and establish themselves as thought leader in their industry. By engaging in conversations with other users and sharing your expertise, you can attract a wider audience and build a positive reputation for your brand.

To join a relevant conversation on social media, research topics that matter to your industry and target audience. Once you have identified a relevant conversation, join in by sharing your perspective and expertise. Offer insights, ask questions, and provide valuable information that can help move the conversation forward.

When engaging in conversations on social media, be authentic and genuine. Avoid overly promoting and focus on providing value to other users. By doing so, you can build trust and credibility with your audience, which can ultimately lead to more leads and sales.
Visual Storytelling
Implementing visual content such as images, videos, and infographics, on your social media platforms allows you to tell a compelling story about your brand and products/services.

Visual storytelling helps you stand out in a crowded social media landscape and capture the attention of your target audience. It can also help you communicate complex ideas and data in a way that is easy to understand and digest.

To incorporate visual storytelling into your social media strategy, identify the key messages and ideas that you want to communicate. Then, think about how you can use visual content to bring those ideas to life. For example, you could create an infographic that illustrates key features or benefits of your product or service. Or, you could create a video that tells the story of how your startup was founded and the problem it is solving.

When creating visual content for social media, keep your audience in mind. Make sure that your content is visually appealing and easy to understand, and that it resonates with the interests and needs of your target audience.
Customer Advocacy
Using the power of word-of-mouth marketing, customer advocacy can help you attract new customers and retain existing ones.

To implement customer advocacy on social media, find out who are your most loyal and satisfied customers. Reach out to them and ask if they would be willing to share their positive experiences with your products or services on social media.

Once you have identified your advocates, provide them with the tools and resources they need to share their experiences on social media. This could include branded social media graphics, pre-written posts, or even a dedicated hashtag that they can use to share their experiences.

When implementing customer advocacy on social media, it's important to be genuine and authentic. Avoid incentivizing your advocates to share their experiences and focus instead on building a genuine relationship with them.
B2B Tech Startup Content Ideas
Implementing content marketing for B2B tech startups is essential. It's a startup's best friend and a required element for any successful social media marketing as a part of the B2B digital marketing strategy.

Implementing content marketing in your social media strategy can actually give you a really good ROI. And the best part is, it doesn't cost a ton of money to do. Of course, you'll need to pay for people to create the content and maybe some tools to help with that, but it's way cheaper than other marketing methods like advertising or events. Plus, the content you create can keep working for you for a long time. Like, months or even years after you first publish it.
Thought Leadership Content
One effective type of content idea for successful social media strategy for startups is thought leadership content. By creating and sharing thought leadership content you not only establish yourself as an industry expert but also gain credibility among your target audience on social media. This content enables B2B tech startups to attract and engage target customers, build their brand awareness, and establish themselves as thought leaders in their industry.

Some tips when creating thought leadership content for social media as a B2B tech startup:
Identify your target audience: Understanding your target audience is crucial for creating content that resonates with them. Conduct market research to identify your audience's pain points, challenges, and interests.
Choose relevant topics: Select topics that are relevant to your target audience and align with your business objectives. Use your expertise to provide insights, analysis, and data-driven perspectives on industry trends, best practices, and emerging technologies.
Create different types of content: Mix up your content formats to keep your audience engaged. You can create blog posts, infographics, videos, webinars, podcasts, and social media posts to share your insights and ideas.
Collaborate with industry experts: Collaborating with industry experts can add more credibility to your content and help you reach a wider audience. You can interview experts, feature guest posts, or co-create content with other thought leaders in your space.
Promote your content: Share your content on social media channels where your target audience is most active. Use relevant hashtags, tag industry influencers, and engage with your followers to increase your reach and engagement.
Opinion Pieces
Sharing opinion pieces on social media can generate discussion and engagement among potential customers. By sharing these pieces on social media platforms you are encouraging feedback and comments and helping your startup build a community around the brand. This can lead to increased brand awareness, customer loyalty, and even potential sales.

When creating opinion pieces for social media, consider the platform and the audience. For example, LinkedIn may be a more appropriate platform for sharing B2B opinion pieces than Instagram. It's also important to ensure that the pieces are well-researched, well-written, and provide value to the reader. This can help to establish the startup as a trusted authority in the field.
User-Generated Content
There are many ways to incorporate UGC into a B2B tech startup's social media strategy. For example, you can ask customers to share their success stories or use cases on social media platforms, feature user-generated content on their own social media channels, or host UGC contests.

UGC can also help to establish the startup as a trusted authority in the industry. By showcasing the experiences and opinions of real customers, startups can provide social proof that their products or services are effective and valuable.

When using UGC as a content idea for social media, don't forget to align your content with your branding and messaging. Startups should also make sure to obtain permission from users before sharing their content on social media platforms.
Run a Topic-Related Podcast or Webinar
Start running a topic-related podcast or organize a topic-related webinar to provide your audience with in-depth information on specific topics, showcase new products or services, or provide training for potential customers. Record these podcasts and webinars and share them on social media platforms for those who were unable to attend live.

Running and organizing an industry topic-related podcast or webinar can help you build relationships with other professionals in the industry. By inviting other experts in the industry as your guests your startup can build valuable connections and expand their network.
Conclusion
Now that we concluded that social media platforms are a good and cost-effective way of generating leads, these are the six things you need to keep in mind:
Set S.M.A.R.T goals that align with your overall business goals
Research your competitors to see how you can differentiate from them
Buyer personas will help you find out what's attractive to your audience and where their attention lies
Define your brand image and tone of voice to be more recognizable on social media
Create relevant, educational, and exciting content to drive traffic to your website and generate qualified leads
There is always space for improvement, so measure, analyze, and optimize your social media strategy
Congratulations, you're ready to take your content marketing to the next level!
Want to learn more about demand generation and inbound marketing? Go to our blog and find some insightful tips to help your business grow!